Last Christmas, I made
bath gift baskets
for friends and family. I had never made bath fizzies before, so I bought a kit
.
It had everything I needed to make the fizzies. I already had some essential oils (I recommend using doTERRA's certified, pure therapeutic grade oils.), so I used some of my own, too. I went ahead and posted the ingredients and instructions below in case you want to try it
without
the kit.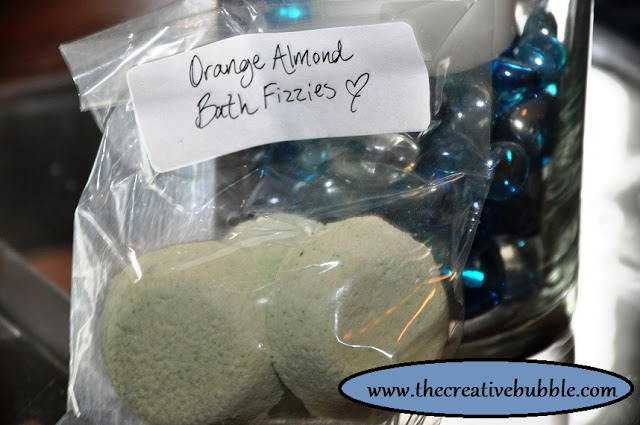 Wild Orange Almond Bath Fizzies
Ingredients:
½ Cup Citric Acid
1 Cup Baking Soda
½ Cup Cornstarch
10-15 Drops Wild Orange Essential Oil
½ tsp. Almond Oil
Powdered food color (Optional)
Spray bottle filled with cold water
Molds (some came with the kit or you can use mini muffin pans or molds sold at craft stores)
-Combine ½ C citric acid, 1 C of baking soda, and ½ C cornstarch.
If not mixed well, the fizzies will be grainy.
Pass the citric acid through a sifter if there are many lumps.
-Add food coloring.
Only add a small amount as it is very concentrated.
The color will show up after the water is added.
-Add 10-15 drops of orange essential oil and ½ tsp of almond oil.
Mix quickly and mix well.
-While stirring the mixture with one hand, hold the spray bottle in the other and lightly spray with water just until the mixture can be packed together. Do not over spray.
I over sprayed the first time, and ended up with goopy fizz balls that never set up right.
-As soon as mixture can be packed together, you can start filling the molds one at a time.
-Allow molds to set for 30-90 minutes.
Invert onto a cookie sheet and gently tap out the fizzies.
-Allow to air dry for at least 4 hours.
-I stored mine in plastic bags, and labeled them.
How to order essential oils:
If you are looking for essential oils, I recommend using doTERRA's certified, pure therapeutic grade oils. You can find them at
my doTERRA store
. If you'd like to receive wholesale prices, 25% off retail, please comment below or email me, and I can help you sign up.
For gift ideas, take a look at the other items that went into these
Gift Baskets
:
Peppermint Bath Fizzies
Tired Muscle Salt Soak
Lavender Bath Salts
Citrus Brown Sugar Scrub
Shea Butter Chai Tea Exfoliant Bar
Refreshing Shea Butter Soap