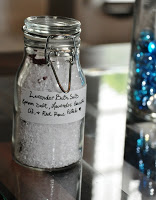 These bath salts were part of a bath
gift basket
I made for family members for Christmas. It's great to use before bed, because the lavender is very relaxing.
This recipe will give you a good excuse to go buy some roses ! My husband bought me some for this and I got to enjoy the extras :)
Ingredients:
1 Cup Epsom Salt
½ Cup Sea Salt
10 Drops doTERRA Lavender Essential Oil
1-2 Drops Red Liquid Soap Dye (optional-found at craft stores)
2 Rose Petals (I used fresh red roses, but dry will work well.)
Put Salt into a medium mixing bowl. Slowly drop lavender oil in one drop at a time. Add one drop of red dye, stirring salt quickly (it may adhere to some pieces of salt more than others…you can fish those out). I was going for a very light pink color. Add another drop or maybe two until you reach the color you like. Break rose petals into small pieces and add them to the salt mixture.
How to order essential oils:
If you are looking for essential oils, I recommend using doTERRA's certified, pure therapeutic grade oils. You can find them at
my doTERRA store
. If you'd like to receive wholesale prices, 25% off retail, please comment below or email me, and I can help you sign up.
For Christmas
gift ideas
, take a look at the other items that went into these
Gift Baskets
:
Tired Muscle Salt Soak
Citrus Brown Sugar Scrub
Orange Almond Bath Fizzies
Peppermint Bath Fizzies
Shea Butter Chai Tea Exfoliant Bars
Refreshing Shea Butter Soap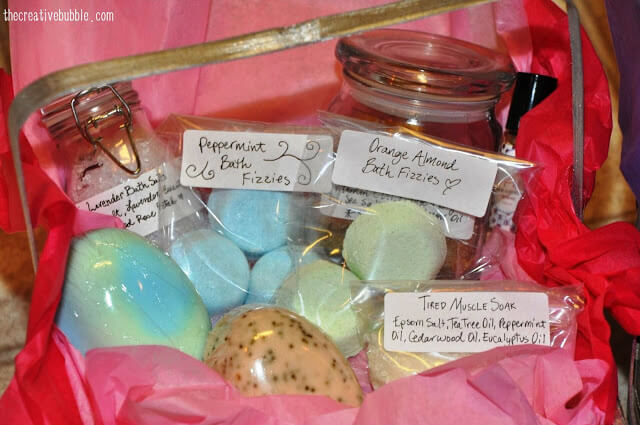 You can find containers for bath products at thrift stores, craft stores, or the grocery store (mason jars work...baby food jars do too!). I found these jars at Hobby Lobby and used a 40% off coupon I found online. Don't forget that Jo-anne's will accept Hobby Lobby coupons, too.