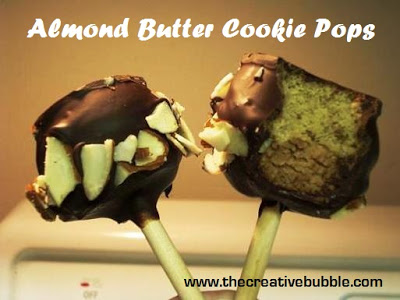 My second job was at a Godiva chocolate shop. There was this amazing almond butter truffle that my sister and I (she worked with me, which made it the best job ever!) would snag almost every shift (the manager said we could "pig out" while we were working). This recipe is my closest representation of that, in combination with a cookie, all dipped in chocolate....oh, and on a stick.

You can replace the almond butter with cashew or peanut butter. The chocolate can be dark, milk, or white, but I like milk chocolate for this recipe.
Makes approximately 36 cookie pops
Cookie Filling:
Preheat oven to 350. Lightly grease mini muffin pan.
Cream the butter and sucanat together until smooth.
Beat in the egg, then stir in the vanilla.
Dissolve the baking soda in hot water, then add to the batter along with the salt. Stir in the flour.
Fill mini muffin pan about 3/4 full in each hole.
Bake about 8-12 minutes until lightly browned.
Let cool slightly, then firmly place sticks in the middle of each cookie while still in pan.
Gently remove cookies and set aside on wax paper.
Almond Butter Filling:
3/4 cups Butter
1 1/4 cup Organic Graham Cracker Crumbs
1 1/4 cup Almond Butter
1 1/2 cup Unrefined, Homemade Powdered Sugar
24 ounces Chocolate Chips
1/2 cup Diced Almonds
Melt butter slightly. Mix first four ingredients together. Some almond butters are drier than others. If mixture is not moist, add more butter slowly until it reaches a moldable, yet moist consistency.
Roll almond butter into small disks, then put sticks through disks down onto cookies. You will need to lightly smash the butter into the cooled cookie.
Place pops into freezer for 15 minutes.
Melt chocolate chips. Remove pops from freezer and dip into chocolate.
Let chocolate set a little then pat almonds around the sides of pops. Set on wax paper in fridge to fully set until ready to serve.