This post is dedicated to
cookie monster
, because...he's awesome.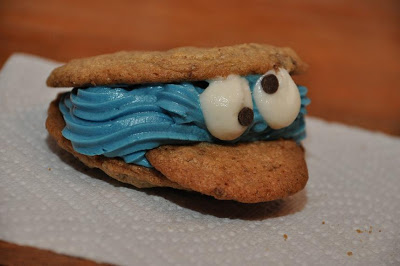 My son will be 1 in July, and I think I want to have a cookie monster birthday party for him. I experimented with some extra
cookies
and
icing
I had after making a cookie cake for my brother-in-law. Click
HERE
to learn how to make a cookie cake.
First, color your icing blue, leaving a little white icing to the side for the eyes. I like to use
India Tree Natural Decorating Colors, 3 bottles(red,yellow,blue)
to avoid using fake dyes.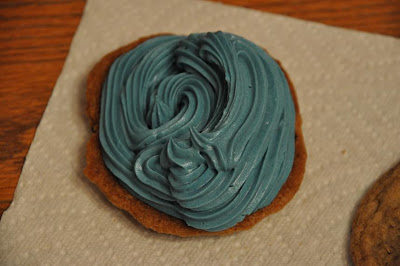 Then, find two cookies that are around the same size.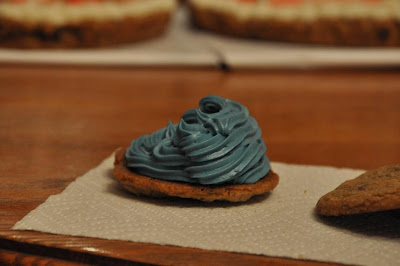 You'll probably want to use a large star tip to pipe the icing.
Make a sloping mound, like you see here, on one cookie.
Stack the top cookie, so that his face is open.
Use a large round tip to pipe the white eyes.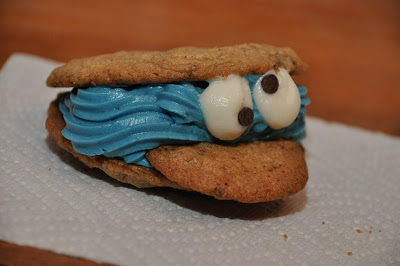 Place two mini chocolate chips in his eyes, and make them googly :)
Next, put a small cookie in his mouth (you can leave it whole or half it).
The last step is to EAT cookie monster . I know it might seem wrong...but he's so good!
What you'll need to make cookie monster cookies:
You will want to bake one mini cookie and two larger cookies for each cookie monster.


(I haven't made a full batch of just cookie monster cookies yet...so, I'm not sure how many monsters a batch will make.)


piping bags/ziplock bags
large round tip
large star tip
two mini chocolate chips per cookie monster
blue food coloring
a cookie monster to eat them