I checked the ingredients on our vanilla extract recently. It definitely isn't as "pure" as you'd think pure vanilla extract would be. I decided to make some of our own to have on hand and for gifts.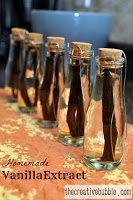 I put off doing this project for quite a while, because I was never in the mood to walk my pregnant self into a liquor store in search of vodka. I finally bought some one night when my husband, son, and I were walking around downtown Chattanooga, and happened to pass a liquor store. Imagine my husband standing outside waiting for me with Levi in his stroller yelling "Mama! Mama!" across the parking lot, as his pregnant mommy comes walking out of the liquor store with a big, brown bag in tote. I'm sure I looked like mom of the year.
What you will need:
unflavored vodka (bourbon, rum, or brandy will work, too)
vanilla beans
glass containers of choice
a funnel may be handy
Most sources say to use about
5 beans per 8 ounces
of alcohol.
Directions:
Wash and thoroughly dry containers.
Cut beans lengthwise.
Place the beans in glass containers.
Fill the containers with alcohol, fully covering the beans.
Tightly seal the containers and store in a cool, dry place for eight weeks.
You can add more alcohol to the bottle as you use the vanilla to make it last a really long time.
There is some debate as to how long the vanilla should be stored before using. Some people say three weeks and up to six months. The most common length of time I have read is eight weeks.
I found these little bottles at Hobby Lobby.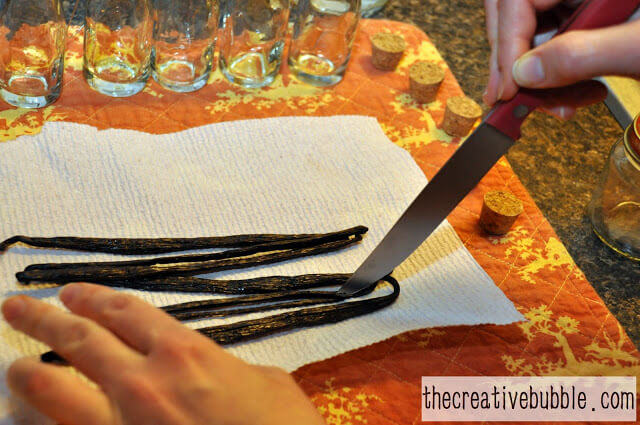 You know how you have to pay up to around $10.00 for maybe four vanilla beans at the grocery store?
I'm not a fan of that at all.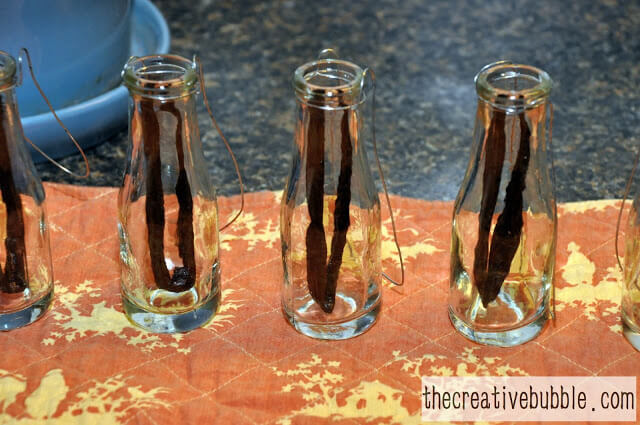 Using a funnel makes this part much easier!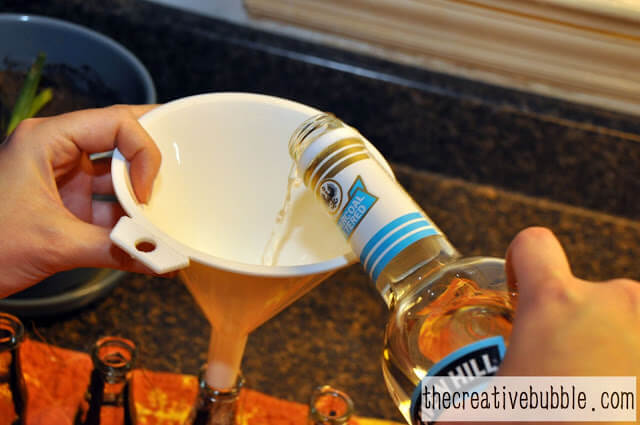 I'm going to be giving these away as Christmas gifts this year. We kept a small baby food jar of it for ourselves. (I'm constantly working on ways to reuse baby food jars, and plan to create a post on it in the future.)
I can't wait until it's done "cooking" so we can make something for the first time with
pure vanilla
!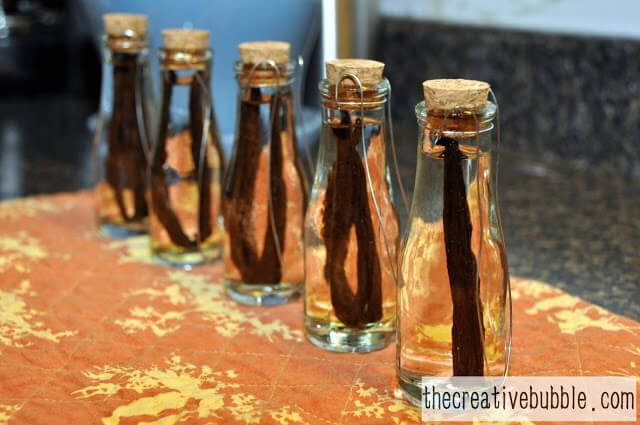 Linked up with:
The Frugal Girls