Lately, I've been drooling over all of the
pumpkin
recipes I've seen online. There are SO many different creations that people have come up with! I knew I wanted to make something that Levi could eat, too. We love making and freezing pancakes for low maintenance breakfasts. Why not make pumpkin pancakes?!
I found this
recipe
on tasteofhome.com, and made a couple changes to make them a little healthier. They are just as good without the syrup. I enjoyed them most with a little butter and no syrup. Also, I like the flavor when I use
coconut oil
to cook them.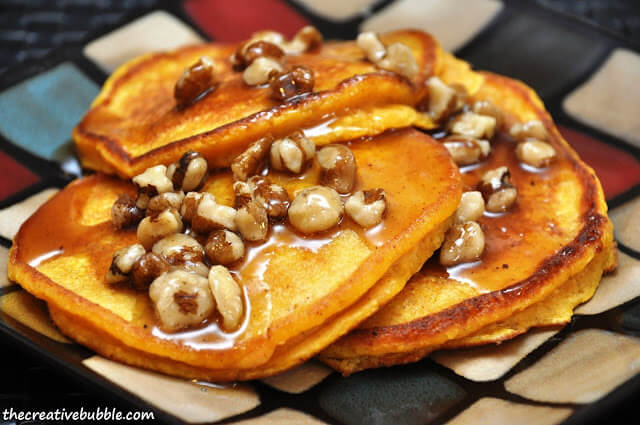 Yields 14 pancakes
Ingredients:
·
1/2 teaspoon ground cinnamon
·
1/4 teaspoon ground nutmeg
·
1/2 cup chopped walnuts or pecans
·
3/4 cups all purpose flour
·
2 tablespoons packed Wholesome Sweeteners Organic Sucanat Brown Sugar -- 2 lbs
·
2 teaspoons baking powder
·
1 teaspoon Real Salt Sea Salt - Pouch, 26-Ounce
·
3/4 cup canned organic pumpkin
·
1/2 cup whole ricotta cheese
Directions:
In a small heavy saucepan, cook butter over medium heat for 5-7 minutes or until golden brown, stirring occasionally. Add the maple syrup, cinnamon and nutmeg. Remove from the heat; stir in nuts.
In a small bowl, combine the flours, sucanat, baking powder and salt. In another bowl, whisk the eggs, milk, pumpkin and cheese. Stir into dry ingredients just until moistened.
Drop batter by 1/4 cupfuls onto a greased hot griddle; turn when bubbles form on top. Cook until the second side is golden brown. Serve with maple butter.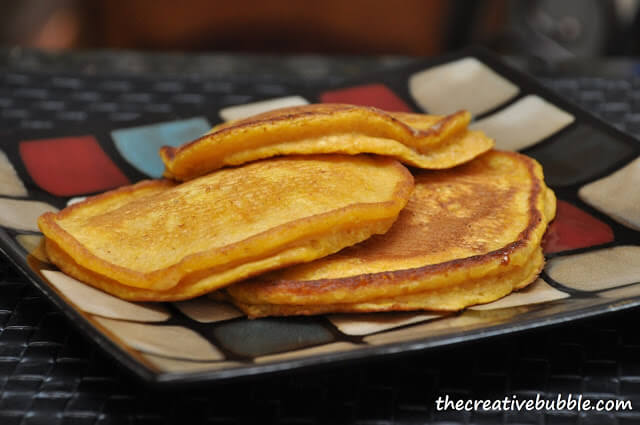 Here is how I like them :) Actually, I think I'll add some Greek yogurt and berries the next time.
This isn't a good picture, but I
love
stacking pancakes with Greek yogurt and berries between each layer.