Every Thanksgiving night, my family has a gingerbread house competition for whichever family members want to join in.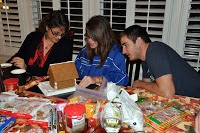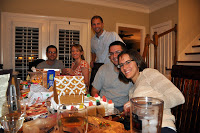 This year it was my husband & I, brother-in-law & sister, brother & his girlfriend, and her mom. We built three houses among all seven of us.
I don't remember a time that "the judges" actually chose a winner. We always hope they'll declare a winner, but we all get similar sympathy awards: most creative, most unique, most you name it.
We still fight to the death!
My sister and brother-in-law are straight up cheaters. Every year they go buy the best materials to make the most elaborate house, while we all use the gingerbread candy kit and old candy in my parents' pantry.
I'm just kidding. They don't really cheat. They are just professional gingerbread house makers. One year, they used real battery powered Christmas lights on a tree in their gingerbread yard. Check out their entry way this year. Nice job, losers! ;)
My brother usually breaks gingerbread men in half, and frosts them in the ground OR he once made a gingerbread man shooting a cannon with tootsie roll cannon balls. His house is always a mess. Thank goodness he had his girlfriend and her mom along to keep things under control this year. Here is their creation this year.
Michael and I are slow pokes. We are always working on our house way too late. Here is ours this year. No, that's not a caprese salad in the front yard. It's chopped, jumbo marshmallows.
My mom always begs us to take the houses home, but they usually wind up adorning her buffet table all season long.
We always have SO much fun. It's one of my favorite family traditions, and I have no idea how it started. It's a wonderful way to get in the mood for the Christmas season.
my sister, Carrie, showing Levi what he gets to help make next year