Bug messes with the drain in the bathtub so often that I felt the need to buy some baby bubble bath, so that he wouldn't be able to
see
the drain under all the bubbles. ...but most of the bubble bath out there has parabens and other crazy stuff that paranoid mommies like me don't want to buy. I thought I might try to make my own bubble bath with...you guessed it...Castile Soap!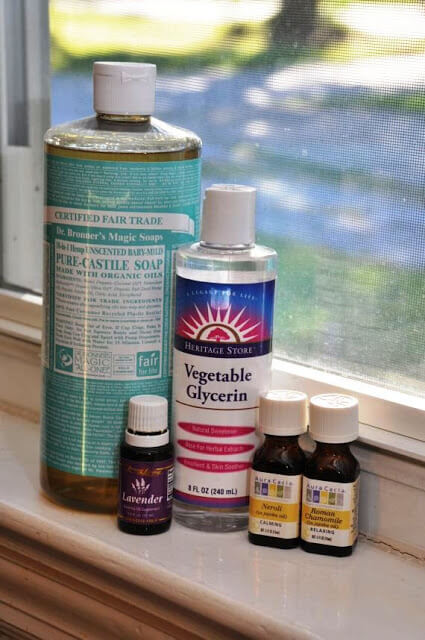 Here is the recipe I decided to use:
1 cup liquid castile soap
3/4 cup water
1 teaspoon glycerin
essential oil of choice
Simply mix ingredients together, then let them sit for 24 hours before using. Read below before trying this recipe!
So, I ordered a big bottle of Castile Soap on Amazon for $15, and discovered that just as I'd heard, it really is a very earthy, hippie product. If you ever see a bottle of it, try to read all of the spiritual writings on the label. Oh. My. Gosh. It's a novel. I found the glycerin at Earth Fare for $10. So, there's $25 so far (I was trying to go the cheap route!), but I have a lot of the glycerin and castile soap left over to use for other things.
I chose to use lavender, neroli, and Roman chamomile for the essential oils, because they are relaxing (and safe for mama to use during pregnancy).
After it dried completely, I painted another coat, and wrote on it with these awesome chalk markers.
These are calendula flowers that I infused into the water portion of the recipe. I love calendula, because it's relaxing and smells wonderful.
Little did I know that this time consuming project would be a flop
! The recipe just didn't work for me. The bubbles were terribly flat and rapidly disappeared. I researched and discovered that this is the case for a lot of people out there. There are tons of homemade bubble bath recipes floating around, and most of them just don't work like you might hope, because they don't contain surfactants.
So, in an effort to rescue the bubble bath, I tested the mixture with three more ingredients I had seen in other bubble bath recipes including:
table salt, nonfat dry milk, and epsom salt...
fail, fail, fail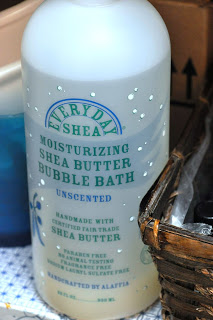 Back to square one... I finally broke down and bought some premade unscented bubble bath for $10 at Earth Fare. It seemed natural enough. The good thing about it being unscented is that I can add different essential oils to each bath. Bug LOVES the big bubbles this stuff makes. They do a good job of hiding the drain, so he doesn't mess with that anymore. Mission
finally
accomplished.
The point of this failed blog post is to let people know that most homemade bubble bath recipes just doesn't produce large, long lasting bubbles. Please let me know if you have tried making your own bubble bath, and have found something that really works!