You may have seen my recent "Favorite Things Party"
post.
It was the one right before this one :)
This post is all about the cake that I brought to that party. I was basically making the cake as a test to see if I liked the recipe and icing for my son's upcoming second birthday party. He loves strawberries and blueberries.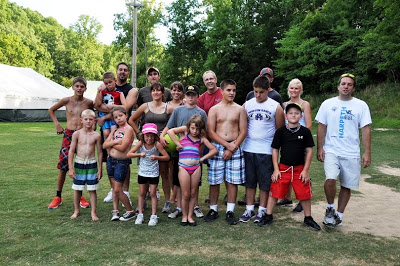 The recipe I used for the cake can be found
here.
I
doubled the recipe
and put it into two different pans. The reason I did this is so that I could put a
filling between the two cakes
. I thought that would make it extra delicious. Don't tell anyone, but I think I put too much frosting between the layers.
One difference between the original recipe and what I did is that I used frozen strawberries and blueberries even though it says not to. I let them thaw, then patted them dry. It worked out just fine! Oh, and I also used 1/4 cup of milk and 1/4 cup of sour cream in place of the buttermilk, because we were out of it.
Ingredients:
6 tablespoons unsalted butter, softened, plus more for pie plate
1 1/2 cups all-purpose flour
1 1/2 teaspoons baking powder
1/2 teaspoon salt
1.5 cups sucanut
2 tablespoons raw sugar
1 large egg
1/4 cup milk
1/4 cup sour cream
1 teaspoon
homemade vanilla extract
1 pint fresh or frozen strawberries, hulled and halved
1/2 cup fresh or frozen blueberries
Instructions:
-Preheat oven to 350°. Grease a 10-inch pie plate. Sift flour, baking powder, and salt together into a medium bowl.
-Put butter and 1 cup sugar in the bowl of an electric mixer fitted with the paddle attachment. Mix on medium-high speed until fluffy. Reduce speed to medium-low; mix in egg, milk, sour cream, and vanilla.
-Reduce speed to low; gradually mix in flour mixture. Transfer batter to greased pie plate. Arrange strawberries and blueberries on top of batter. Sprinkle 2 tablespoons raw or granulated sugar over berries.
-Bake cake 10 minutes. Reduce oven temperature to 325°. Bake until cake is golden brown and firm to the touch, about 1 hour. Let cool in pie plate on a wire rack. Cut into wedges. Cake can be stored at room temperature, loosely covered, up to 2 days.
NOTE:
You can use all strawberries (1 pound) or a combination of berries that you prefer. Use enough to cover the top of the batter.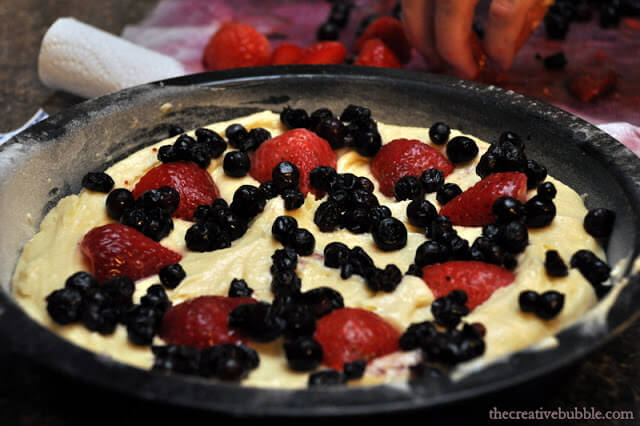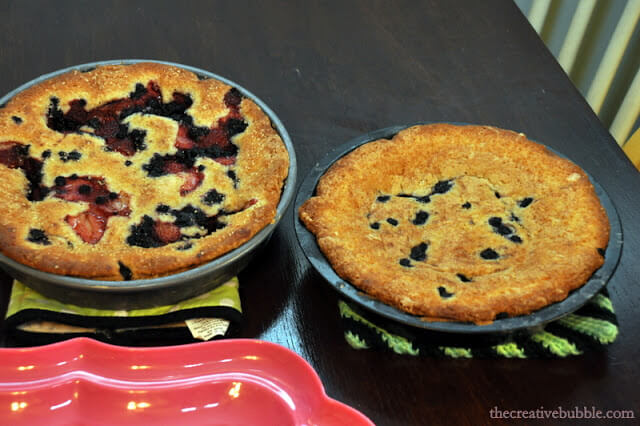 Strawberry Filling Ingredients:
Nature's All Foods Organic Freeze-Dried Strawberries, 1.2 Ounce Pouch
(made into a powder in the food processor)
butter
unrefined, homemade powdered sugar
heavy cream
I unfortunately didn't write the recipe down for the frosting, because I just eye-balled everything in a hurry.
If I had to go back and guess
, I would say that you could use 1/2 stick of butter, 2 cups of powdered sugar, 2/3 cup of freeze dried strawberry powder, and about 1/4 cup of heavy cream.
Cream the butter, then slowly add the powdered sugar and freeze dried strawberries. Add enough heavy cream to make the icing spreadable.
This cake was really good if I do say so myself. I loved the look of it without frosting on top. The fruit is beautiful. If I use this recipe for my son's second birthday, I will feel sad as I cover the pretty berries! I think he would really like this cake, too. I may end up coming up with a way to make it even a bit healthier for him. Don't worry, I'm not going to add cauliflower or anything like that...probably just some wheat flour. You may have noticed all the beautiful colors in the cake, and yet...no food coloring! That is thanks to the freeze dried fruit :)
I hope you enjoy this recipe if you try it. It's definitely found a home in my
recipe binder
.