Wow. I've taken quite a break from blogging (3 weeks!). I've decided to get back to it today to share a really neat party idea.
Have you ever heard of a "Favorite Things Party"? I hadn't heard of one until I was invited to one this Spring.
Isn't this mirror decoration so cute!? My friends made it for the party.
Here is how a Favorite Things Party works:
-Each invitee brings three of their favorite things under $6 (although you can make your own price range and bring a different amount of gifts based on number of attendees). Everyone also brings a favorite snack to share.
-Each person writes their name on three small pieces of paper, and drops them into a bowl when they arrive.
-Next, everyone draws three names out of the bowl (ensuring that you don't grab your own).
-You then hand out your gift to the three people you chose, and explain why it's your favorite thing. At this time, you can also tell everyone which snack you brought to share and why it's your favorite.
-You will end up bringing home three new treasures from others.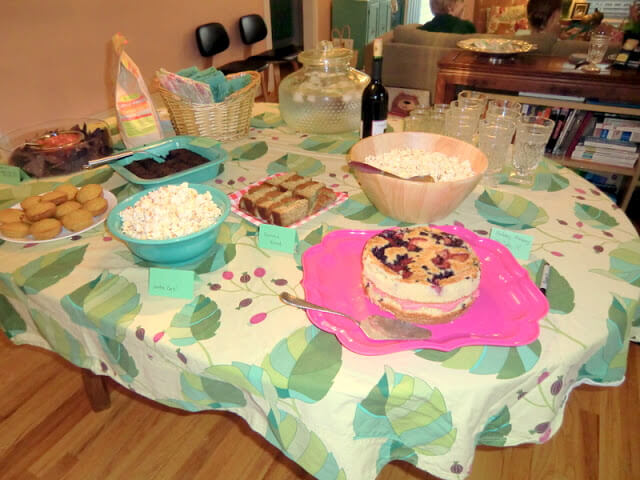 At the Favorite Things Party I attended, the host put cards in front of each snack that said what the snack was. I thought that was a really good idea.
This was by far the neatest concept for a party that I've ever attended. I had a wonderful time not only because we got to eat a lot of everyone's favorite foods and exchange gifts, but because we really got to know each other a little more. I loved hearing why the ladies chose to bring certain foods and the stories behind their gifts. Three ladies actually ended up bringing popcorn. I love popcorn, so that was awesome! There were also cherry limeade GF muffins, banana bread, Ghiradelli brownies, chips and mango salsa, and aggression cookies (Look them up, because they are yummy!).
The three gifts I brought home were:
Arbonne chap-stick
a cute picture frame with an Etsy print out reading "I love you a bushel and a peck"
a hand sewn change/lip gloss pouch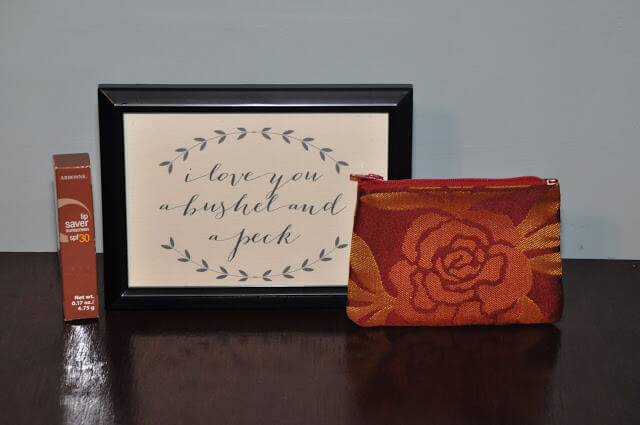 The gift I chose to bring was a small mesh bag with Calendula seeds from my flowerbed (because they are my favorite) and a Chocolove dark chocolate, sea salt, and almonds chocolate bar. The snack that I brought was a
strawberry, blueberry cobbler cake
. The catch to my favorite snack was that I had never actually tried it. I made it to share, because I was putting it on a trial run for my son's second birthday party. He loooves strawberries and blueberries. I knew there wouldn't be enough people to eat the cake at my house.
I would love to go to another Favorite Things Party someday!