These muffins are the perfect Spring and Summer treat!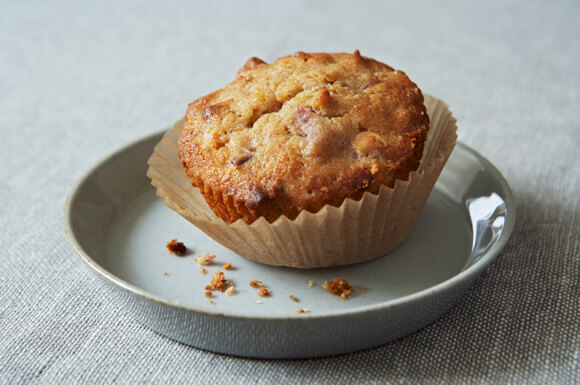 This muffin recipe comes from a variation of dairy free blueberry muffins I love to make, but these are definitely NOT dairy free...and they are delicious!
Makes 18 Muffins
Ingredients:
1/2 cup Butter
1 1/4 cup Sugar
1 teaspoon Salt
2 Eggs
1 cup All Purpose Flour
1 cup Wheat Flour
2 teaspoons Baking Powder
1 1/4 cup Ripe Diced Peaches
1 cup Halved Raspberries
3/4 cups Chopped Pecans
1/2 cup Whole Milk
1/2 teaspoon Cinnamon
2 tablespoons White Sugar for Decoration
1 Small Jar of Nutella (you may not use it all)
Directions:
Preheat the oven to 375 degrees F (190 degrees C).
Line muffin pans with paper liners, and lightly spray the tops with cooking spray.
In a large bowl, mix together the butter, 1 1/4 cups of sugar, and salt until smooth.
Beat in the eggs one at a time until well blended.
In a separate bowl, stir together the flour, cinnamon, and baking powder.
Spoon some of this mixture onto the peaches, raspberries, and pecans in one bowl and toss to coat. This will keep them from sinking to the bottom.
Fold the remaining flour mixture into the bowl with the eggs, alternating with the milk.
Gently fold in the peaches, raspberries, and pecans.
Spoon the batter into the muffin cups, filling to the top.
Sprinkle a little sugar over the tops of the muffins to make them a bit crispy.
Bake for 25 minutes in the preheated oven, or until muffin tops are golden brown, and the tops spring back when pressed lightly.
Cool for at least 10 minutes before removing from pan.
(Optional) Finally, pipe Nutella into each of the muffins by gently pushing a large star tip, nutella filled bag into the centers. Let some nutella overflow to the top if you love it like I do.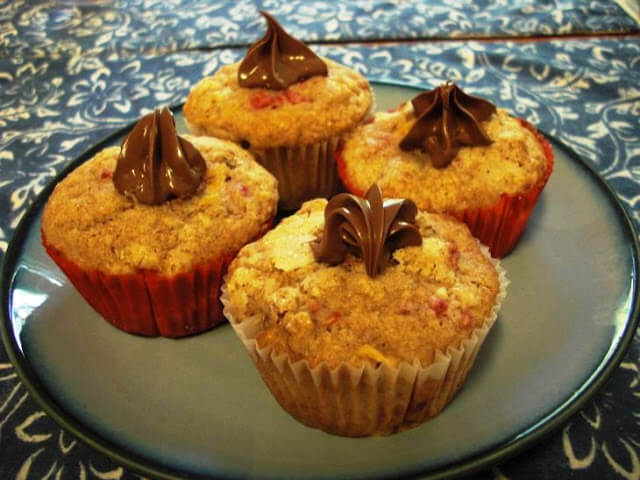 I like to add nutella to almost every muffin I make. It's really good in this recipe, but also good without it.
I entered these muffins into a Whole Foods cooking contest, and here is what Whole Foods test kitchen said about them:
"Wonderful fruit-filled muffins from Katie are a great way to celebrate the bounty of the season. Moist from the peaches and tart from the raspberries, these not-too-sweet muffins would be great for breakfast or as a snack. The pecans spread throughout along with the sugar sprinkled on top add a welcome contrast in texture, and we love that these are made with half whole wheat flour -- the delicate crumb holds up nicely to this fortifying split."