Making felt food or things for our
felt board
has become a great outlet for me. It's really soothing to sit down, and let my creativity have a chance to run wild all while making something that my boys will (hopefully) like. I haven't yet made anything with felt that requires sewing. I hope to enter that arena when I get the courage! Why do needles, thread, and sewing machines intimidate me so much? I'll hopefully get over it eventually.
So, here are a couple no-sew felt food ideas for you:
pizza, salad, and spaghetti and meatballs
. They are ridiculously easy, and lots of fun for the kids (They never notice the lack of sewing.), because they can also unleash their creativity (which comes pretty naturally!) by mixing and matching foods.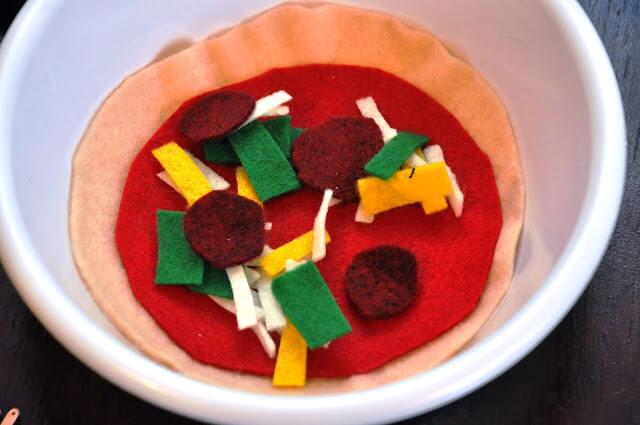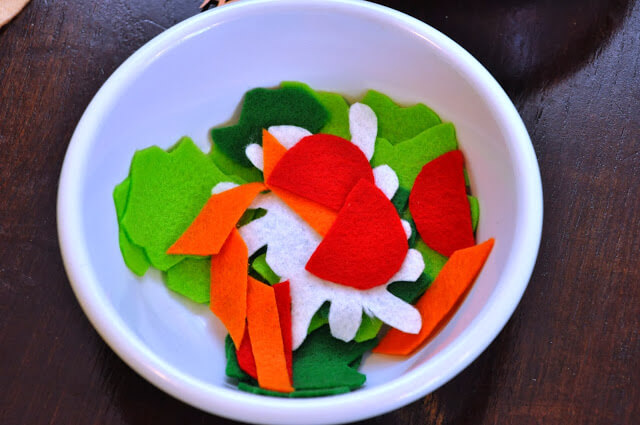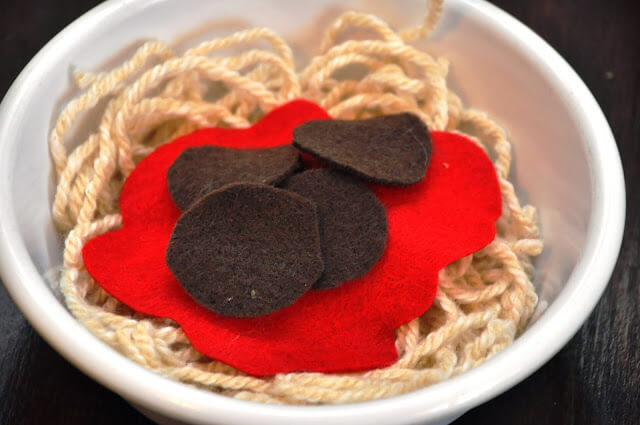 These are really fun to use at children's parties, because they can all make their own foods however they want. The pizza is probably the best for that, because of all the toppings. I think throwing the spaghetti in the air is my toddler's favorite thing to do. There are so many ways you could expand on these ideas as well.
I'm sure we will come up with some more fun foods. Do you have any that you like to make?
We just made a felt Mr. Potato Head, so I'll have to share that soon, too.
How-To Below
You will need these items:
Felt colors for the pizza:
tan, red, dark red (for pepperonis), white, green, and yellow
Felt colors for the salad:
two or three different greens, white, red, orange
Felt colors for the spaghetti:
You will use tan or cream colored yarn cut into strands for the spaghetti.
Cut a round, tan circle for the crust, and a red, smaller circle for the sauce. Then, cut small, white pieces to look like cheese. You can add yellow peppers or pineapples, green peppers, and red pepperonis.
Cut jagged pieces for green lettuce, a white "blob" of ranch dressing, and then add your red tomatoes and orange carrots.
Cut the yarn into small strands. Next, add the red "blob" of sauce on top of that with a few brown meatballs.