Vinegar is great for cleaning without the harmful side effects that go along with using harsh cleaning products. There are so many uses for it that you'd probably never even think of!
One of my
favorite
things to use distilled vinegar for is
upholstery cleaning
. I like to spray it all over the furniture every now and then to kill bacteria, BUT it stinks. It literally stinks. Here is a little trick to make your vinegar cleaner smell like
citrus
instead of straight vinegar.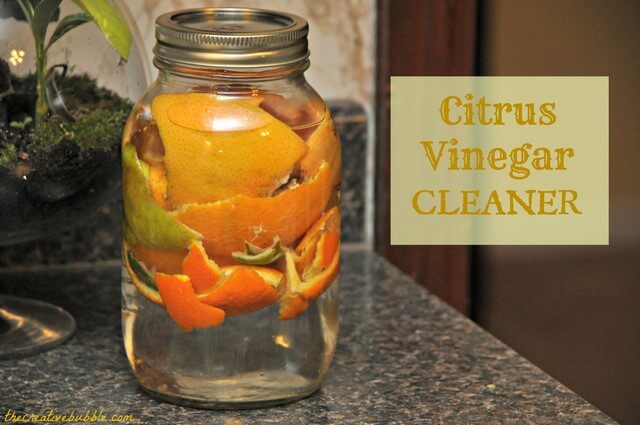 Here is what you will need to make the citrus vinegar cleaner:
large glass jar with a lid
peels from lemons, limes, oranges, tangerines, grapefruits, etc.
distilled white vinegar
Directions:
Fill the jar about halfway or more with the
citrus peels
. Then, pour the vinegar in until it is full. Seal the lid tightly, and allow it to sit for two weeks. (Do not leave the peels in for too long or the cleaner will become thick and sticky.) Remove the peels, then pour the cleaner into a spray bottle.
I use mine all the time! I chose to use
lime, grapefruit, and orange
. I would have filled the jar with more peels if I had more on hand when I made it.
This definitely smells better than straight vinegar!
Think of how much money you can save by using this natural and effective cleaner to replace several bathroom and kitchen cleaning products.
One even
easier
way to make this natural cleaner is by using
dōTERRA's essential oils
.
It would be wonderful with a few drops of lemon eo,
wild orange
eo, grapefruit eo, citrus bliss eo blend, or lime eo!
Try using this citrus vinegar cleaner to:
deodorize a garbage disposal/drain
clean bathroom and kitchen surfaces and floors (besides marble-the acid will ruin it)
freshen upholstery
clean the refrigerator
clean and disinfect baby toys
give ants a detour (spray where they are coming in outside and inside)
clean pet accidents
Linked up with:
Easy Living Mom-Link Love Thursday
The Frugal Girls