One of my favorite Summer desserts is a fruit tart. It's also the perfect dessert for the Fourth of July, because you can use blue and red berries to be extra festive. It's sweet, but not overly sweet, which I love. I made this tart for the Fourth last year, but would love to have one of these right now!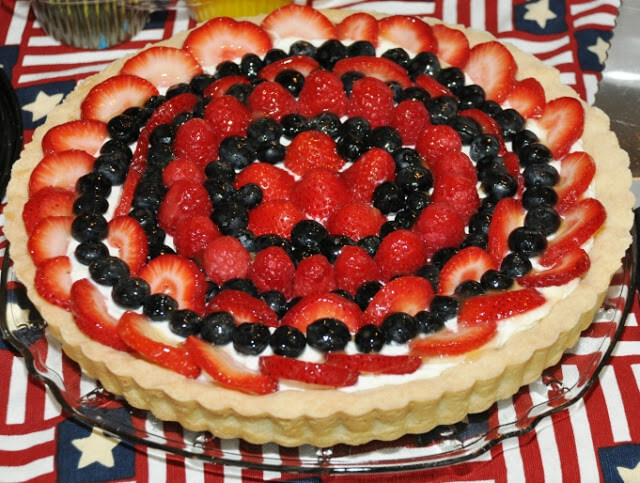 Ingredients:
Crust
3/4 C butter, softened
1/2 C powdered sugar
1.5 C all-purpose flour
Filling
10oz mascarpone
4 tbsp powdered sugar
1/2 C whipped cream
1.5 C mixed berries (I used raspberries, blueberries, and sliced strawberries.)
Glaze
3 tbsp sugar
2 tsp cornstarch
1/2 tsp orange/lemon juice
1/2 C pineapple juice
Directions:
Crust
Preheat the oven to 300. Cream the butter and sugar until fluffy. Slowly add the flour and mix well. Press into middle and sides of ungreased 11in. tart pan with removable bottom. Bake until lightly browned (25-30 min.). Cool on a wire rack.
Filling
Mix mascarpone and powdered sugar together until smooth. Fold in 1/2 C whipped cream. Spread the filling into the crust (when it has completely cooled). Top with berries (I love this part!)
Glaze
Combine sugar and cornstarch in a small saucepan. Stir in orange and pineapple juice until fully combined with sugar and cornstarch. Bring to a boil on medium heat. While constantly stirring, cook for two minutes or until thickened. Allow glaze to cool, then brush over fruit. Refrigerate for one hour before serving. Enjoy!!