When I was pregnant with my second son, I wizened up
a bit, and tried to make a few meals to freeze ahead of time. This is the single most helpful thing I could have done to prepare for his arrival. I was a wreck (as most of us are) after my first son, and would have loved to have been able to grab meals out of the freezer for quick dinners rather than scrambling for last minute dinner ideas.
Here are a few of my favorite recipes that I found all from one site:
pregnant.livejournal.com
. Thanks to Rachael for the recipes. I made some very minor changes to a couple of the them. I'm not sure if she is the original recipe creator or if these came from a different source. Either way, they are great recipes that I wanted to share. I plan to post a couple more freezer meal entries here. I hope you enjoy these recipes if you try them!
It was semi-time consuming, but I rounded up all organic ingredients for all of this. One way to cut corners cost-wise, if you want to try to use organic products, is to buy local produce or to even buy frozen, organic produce. It is frozen promptly after harvest, so the nutrients are typically equivalent to that of freshly harvested fruits and vegetables. Joining a CSA is a great help, too, because you can freeze your CSA produce that you don't use right away, to use in future recipes like these.
Chicken & Black Bean Chili
(made 4 - 4C bags)
4 chicken breasts - boiled & shredded
56oz tomato sauce
30oz black beans
30oz corn
2 onions - diced
4 stalks of celery
2 packets chili/taco seasoning
4 cloves of garlic
salt and pepper
Chop everything up, throw it in a pot/crock pot and let it simmer for an hour or two.
*This recipe is extremely easy and well worth it. We like to eat it with sour cream and tortilla chips.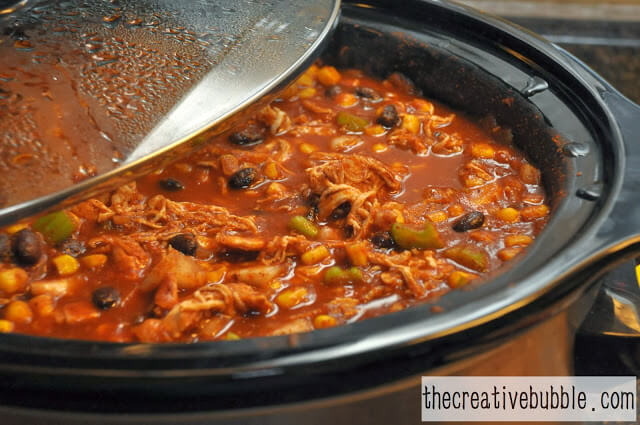 Baked Ziti
(2 - 8x8 casseroles)
1lb cottage cheese
2 eggs, beaten
3oz + 1-1/2C Parmesan cheese
1/2C onion, chopped
28oz tomato sauce
1lb ziti
8oz mozzarella
20oz Italian sausage/ground beef
5 garlic cloves, pressed
1T olive oil
15oz diced tomatoes
1/2C + 2T basil
1C whole milk
1tsp oregano
1tsp sugar
3/4tsp cornstarch
salt & pepper
Whisk cottage cheese, eggs, & 1C Parmesan together in a medium bowl; set aside. Bring a large pot of water to boil, cook pasta until it begins to soften but is not yet cooked through, 5-7m. Drain the pasta.
Heat olive oil in a skillet over medium heat. Cook meat until nearly browned. Add in the onion and garlic and continue to cook until the onion is softened and meat is completely browned. Add tomato sauce, diced tomatoes and oregano; simmer until thickened, about 10m. Off the heat, stir in 1/2C basil and the sugar, and season with salt and pepper.
In a small bowl stir together the cornstarch and milk. Transfer the mixture to the now-empty stockpot over medium heat. Bring to a simmer and cook until thickened, 3-4 minutes. Remove the pot from the heat and add the cottage cheese mixture, 1-1/2C of the tomato sauce and 3/4C mozzarella. Stir to combine. Add the pasta and toss to coat thoroughly with the sauce.
Split the pasta into 2 foil-lined 8x8 baking dishes and spread the remaining tomato sauce evenly over the tops. Sprinkle the remaining cheeses over the tops.
Reheating-
Thaw. Remove from foil & transfer back to an 8x8 baking dish. Cover with foil, bake at 350 for 30m. Remove foil & bake for an additional 30m.
*I went crazy and quadrupled this recipe. It makes a LOOOT of baked ziti. I think my family is going to be sick of it before it's even gone, but seriously, this is a
delicious
recipe!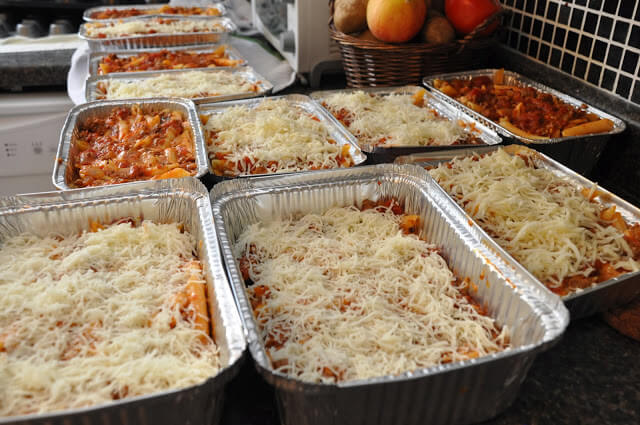 Meatloaf -Gluten-Free Option
(4 loaf pans)
3lb ground beef
3lb group turkey
12oz stuffing
~3/4C bread crumbs
~3/4C Quinoa flakes (for a gluten-free version)
6 eggs
1C BBQ sauce
5T onion powder
6T Worcestershire sauce
4T garlic salt
salt and pepper
Mix all ingredients and form into loaf pans lined with foil. Cover with foil, bake at 350 for ~45 minutes. Uncover, coat with ketchup and let cook another 15 minutes. Let them cool, then pull out the foil "packages" and wrap in more foil.
Reheating
- Thaw loaf. Remove foil, put back in loaf pan, cover in ketchup & cook at 350 for 20-30 minutes, until warmed through.
*This is one of the easiest and tastiest meatloaf recipes I've come across. That's not a very awesome picture below, but it's the only one I have of the meatloaf. Trust me, it's good. You can also turn it into mini meatloaf muffins, which are great for toddlers.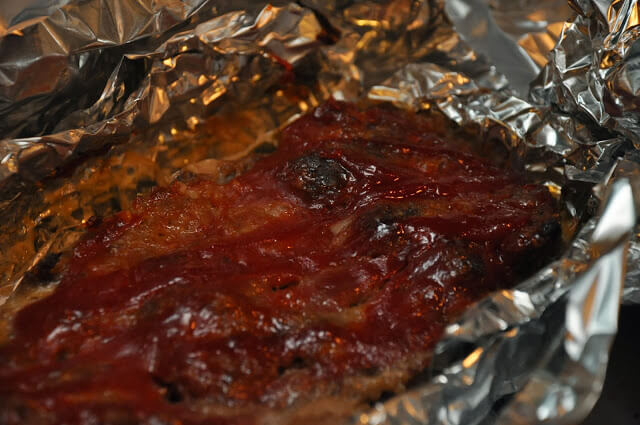 Pulled Pork Starter
(4 bags)
6-8lb pork shoulder
1/4C water
2T pepper
2T cumin
4T paprika
1tsp cayenne
2T brown sugar
2T salt
2T chili powder
1T oregano
1T sugar
2T mustard powder
Mix spices together & massage into the meat. Wrap the meat in plastic wrap and let it rest in the fridge overnight - 2 days. Cook in the crock pot on low for 8-10 hours. Add 2C BBQ sauce for the last hour.
*This is hands-down the best homemade pulled pork I've ever had in my life.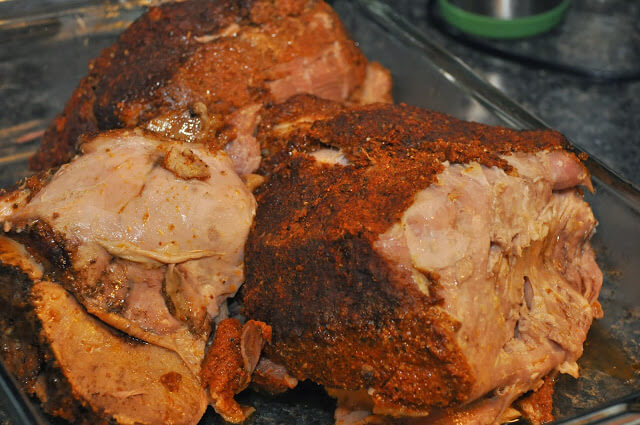 Chicken Spaghetti
(2 - 8x8 casseroles)
4 chicken breasts - boiled & shredded
2 cans organic or homemade cream of mushroom soup
1 green bell pepper, diced
1 onion, diced
4oz jar of pimentos, diced
3C thin spaghetti, broken into small pieces
2C shredded cheese
1 tsp seasoned salt
1/8 tsp cayenne
salt & pepper to taste
Boil chicken, keep 2C of broth. Cook spaghetti in the remaining broth. In a large bowl, mix all the ingredients together. Mix in the saved chicken broth gradually. You want the mixture to be creamy, slightly soupy, but not drippy. Press into pans and top with more cheese. Wrap in foil.
Reheating
- Thaw casserole. Remove foil & place back in baking dish. Cook at 350 for 45m.
*The picture below was taken before adding cheese.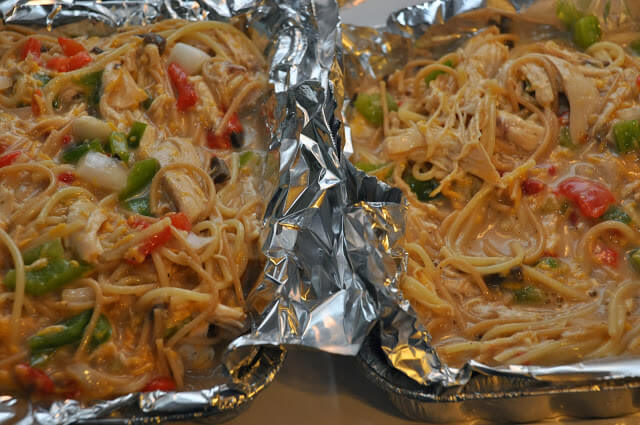 Stay tuned for part 2!