One of my favorite parts about doing wedding sweets catering was creating "candy bars"! You may have seen these at weddings or parties. Kids love them. I do too! If you don't know what to get your guests for a departing gift, let them make bags and take them home. You can tie a little message card to each bag, thanking them for celebrating with you.
This was a Fall themed candy bar. The candies were pretty easy to find for this one.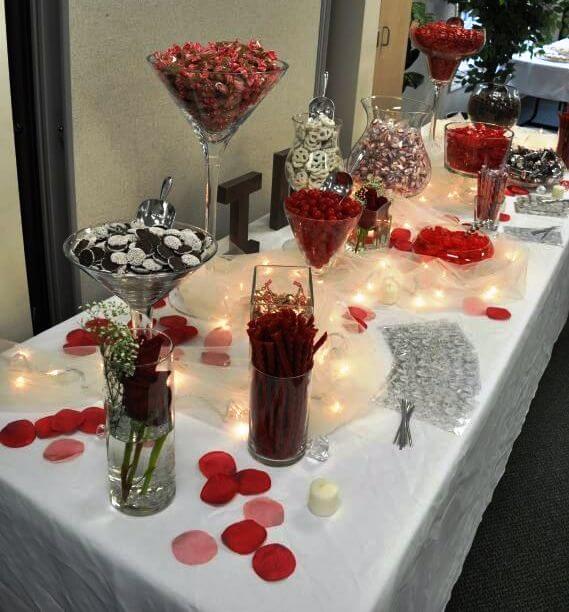 I loved the colors this bride chose. Some of these candies were a little harder to find. A few places I recommend looking to fill the candy jars are:
Sam's
Costco
Hobby Lobby
Michael's
Jo-Ann's
Wal-mart, etc...
The craft stores have a lot of colored chocolate wafers and pastel blues and pinks for baby showers etc... If you can't find the colors you need, you can always order various candies (like any color m&m's) online.
This was from my wedding in October '08. My mom did this candy bar for us. I love the "I DO" letters she used. She just bought these at a craft store (Jo-Ann's, I think) and spray painted them to fit the Fall theme. Those are mini bags in the front right for guests to take the candy to go. The picture on the far left says, "Eat, drink and be married". I thought that was so cute!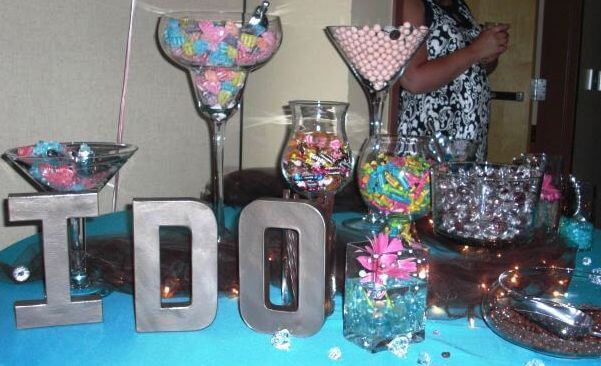 I would always use fabric and tuck Christmas lights into it, then wrap it around the table.

You can find the scoops and glass bowls/glasses at craft stores (Jo-Ann's, Michael's, and Hobby Lobby). Don't forget to print a coupon or take one from the paper before you leave to save extra! It might take a while to accumulate all the perfect glasses and bowls.
It was fun to find different things to add sparkle to the tables, like the glass diamonds and flower vases in the picture above.
I would love to make another candy bar sometime. There is so much that you can do to make them pretty and customizable.